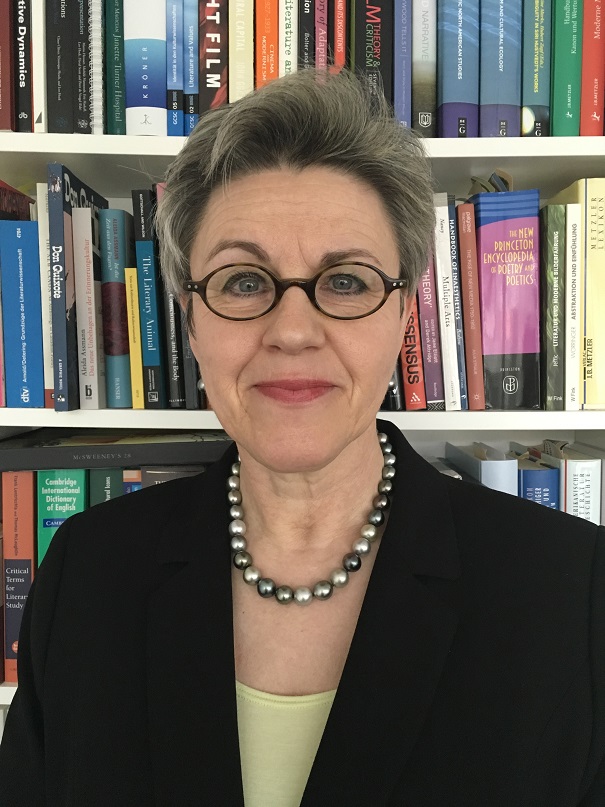 Prof. Dr. Gabriele Rippl
Full Professor and Chair of North American Literature and Culture
Vice Dean of the Faculty of Humanities
Phone

E-Mail

Office

B261

Postal Address

Department of English
Unitobler
Länggassstr. 49
CH – 3012 Bern

Consultation Hour

Office hours: by appointment
Gabriele Rippl studied English, American and German literatures and linguistics at the University of Constance and received her MA degree (plus 'Staatsexamen') in 1989. She was a doctoral fellow at the graduate studies programme 'Theory of Literature and Communication' (German Research Foundation/DFG-Graduiertenkolleg 'Theorie der Literatur und Kommunikation') from 1991 to 1993. This PhD scholarship allowed her, together with a DAAD-stipend, to work on her PhD thesis on early modern Englishwomen's autobiographies at the University of Constance and the Bodleian Library, Oxford. Her PhD thesis was published as her first book Lebenstexte. Literarische Selbststilisierungen englischer Frauen in der frühen Neuzeit with Fink in 1998. On the completion of her doctoral thesis, she held positions as lecturer and assistant to Prof. Dr. Aleida Assmann, Chair of English Literature, University of Constance. From 1993 to 2001, she taught BA and MA classes on English and American literatures and wrote her post-doctoral thesis ('Habilitation') on intermediality and ekphrasis (text-picture relationships) in nineteenth- and twentieth-century Anglo-American literature. The research for this project was supported by the University of Constance, a Visiting Research Fellowship of the University of Wales, Lampeter, UK, and a Visiting Fellowship at Sidney Sussex College, Cambridge, UK. Based on this research project, she published her second book Beschreibungs-Kunst. Zur Intermedialen Poetik angloamerikanischer Ikon-Texte (1880-2000) with Fink 2005. She was Visiting Professor in English at the University of Tübingen, the University of Bern, and the University of Bielefeld, before she became Full Professor of English Literature and Vice-Director of Comparative Literature at the University of Göttingen in 2003.
Since October 2005 she has been Full Professor and Chair of American Studies/Literatures in English at the University of Bern, where she served as Head of the Department of English (2006-08), as president of the Collegium generale (2007-15), as president of the SNSF Research Committee of the University of Bern, and as co-founder and first director of the Center for Cultural Studies (now 'Walter Benjamin Kolleg'). In 2008 she held a three-month scholarship of the Canadian Government (Faculty Enrichment Program), which enabled her to do research on a project on Canadian literature and Greek myth at the University of Western Ontario, London, Canada. She spent autumn term 2015 as visiting scholar at UCLA, Los Angeles, USA (supported by the Swiss National Science Foundation, SNSF). In 2017 she was a scholar at the Center for Advanced Studies, University of Cologne, where she undertook research for a project with the title "Anglophone Life Writing Today: Transcultural Figurations--Intermedial Constellations."
Prof. Rippl is a member of the Swiss National Research Council (Division 1) and the President of the SNSF's Specialised Committee Careers. She also serves as a member of the Presiding Board of the National Research Council, as president of Ambizione (SNSF Division 1), as Chair of the SNSF Panel Editions, on several other SNSF committees, and as an advisory board member of the Berrow Foundation, Lincoln College, Oxford.
She is now Vice Dean of the Faculty of the Humanities and Social Sciences at the University of Bern (2019–) and a member of the university's Senate. In 2014 AcademiaNet – European Expert Database of Outstanding Female Academics elected her as a new member.
Editorial responsibilities: Anglia. Journal of English Philology (De Gruyter), the Anglia Book Series (De Gruyter) and the series Handbooks of English and American Studies: Text and Theory (De Gruyter).
Gabriele Rippl's teaching and research are devoted to North American, British and other Anglophone literatures and cultures. She teaches drama, fiction, and poetry from the colonial/early modern to the contemporary period as well as literary and cultural theory. Like many of her colleagues in literary and cultural studies, she regards literature as one cultural practice among others, and she is particularly interested in the histories and interplay of different symbolic systems and media. As a specialist in early modern, nineteenth-, and twentieth-century literature and culture, she has published books and articles on literary theory, gender studies, postcolonial studies, intermediality (i.e. the interrelation between literary and visual culture), autobiographical writing, cultural sustainability, the reception of classical antiquity in Anglophone literatures, the history and theory of the media, and the anthropology of literature.