In addition to the Students' Committee and the Arts Council, infomation about student life in Bern can be found at the university's Studies page.
Students' Committee
The Students' Committee is a group of students within the Department of English acting as the students' representatives at a departmental level. We maintain regular contact with the staff and professors, as well as other university departments and the SUB, communicating the voice of the student body to the department.
Among other things, we call General Assemblies once each semester. This is when all the students of English are asked to meet and discuss topics of general concern, and to provide feedback about past activities and other matters.
It is our responsibility to assist you in study matters and, therefore, we organize information meetings about various topics – such as your stay abroad – to give you the opportunity to gather information. Check the notice boards as well as our facebook page for announcements. However, you can always contact us if you need any kind of assistance concerning your English studies.
We meet regularly to keep up to date with what is going on. If you have any suggestions or complaints, talk to one of us or feel free to e-mail us.
Feel free to join the Committee, or if you are interested in finding out what the Students' Committee is all about, contact one of the current members and/or join in at one of our meetings. You can also email us: fsanglistik@sub.unibe.ch
Visit our facebook page to see the latest news: Students' Committee Facebook Page
Arts Council
Are you a student at the Department of English at the University of Bern? Do you have a project idea for a play, poetry slam, reading, photo exhibition, or any other kind of project related to the arts? Are you looking for financial and/or advisory support?
If you can answer the above questions with 'check, check and check!', then visit the Arts Council's website.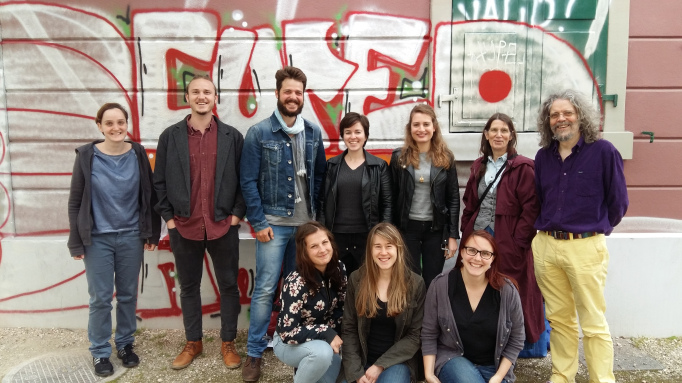 Student Assistantships and Tutorships
On a fairly regular basis, a small number of BA and MA students are offered part-time appointments in the department working as student assistants (for a professor) or tutors (for an instructor). These positions are usually filled by people who've made a positive impression through their exceptional participation in class or through a professional work ethic in their thesis projects. The positions are seldom advertised formally and hiring is done at the discretion of the individual professor or instructor.
If you think you might be interested in becoming a student assistant or a tutor, we recommend that you at least let your professors or instructors know.
Institute for World Literature
The CGS is an institutional sponsor of the IWL (Institute for World Literature). The IWL is a 4-week summer school that takes place alternatingly in Harvard and different universities across the globe, devoted to exploring the study of literature in a globalizing world.
Our institutional membership enables two (sometimes more) of our students to take part in the IWL for only half the fees (USD 900 instead of 1.800). We will try to provide the other half with funds from the CGS. The deadline for application is 1 February for the upcoming IWL, which usually takes place between the end of June and the end of July. It offers a unique possibility not only to meet renowned faculty, but also for academic networking. After returning, the participants are asked to provide a short report of their experiences. The 2016 IWL will take place in Harvard again.
For further information on the IWL, such as future venues and application procedure, please consult its webpage. If you would like to apply for further IWL Summer schools, please get in touch with Prof. Thomas Claviez, who is responsible for the cooperation with the IWL.